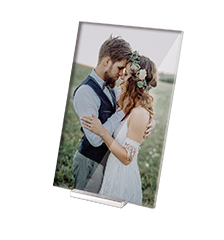 Acrylic photo print 13×18cm (direct print)
12,99 ¤
(VAT included,
P&P
excluded)
The ideal gift for your desk. An acrylic print 13x18 cm has
5mm thick acrylic glass and is produced with UV-protected colours
.
A
transparent stand will be delivered with your print for free.
This allows you to place your print in landscape or portrait format.
You don't have this much room on your desk?
Then choose the
Acrylic Print 10×15 cm
!